Sometimes I feel an enormous sense of a frustration. It can feel like I'm screaming. I'm not the only one but it can feel few and far between and ineffective to say the least. There was a time when the screams were for cancer. The horrible pain, high death rate and inexplicable stigma; yet everyone knew someone close who was suffering or suffered. Over time, charities along with institutions like the NHS and the HSE (Health and Safety Executive) have rallied the screams and presented a united front line.
So where is that rally call for mental health? Slowly the stigma is being tackled yet in 2016, suicide remains the biggest killer of men aged under 45 and teenage men. Meanwhile, more teenagers are self harming than ever before. Gradually support in schools is improving but still falls far short of basic levels found as standard in the US. If you have been reading my story then you will understand that I found myself trapped in a job as my mental health deteriorated until, 12 months ago, I tried to kill myself.
I had been choosing my job over my own health and as we've discussed before, with a unsupportive employer

this nearly killed me

.
Stress is a key theme this Men's Health Week and sometimes stress can be good. It is perfectly reasonable to feel some stress as you are heading towards a deadline. A prime example for me is the work I've been doing with the Iver Heath Drama Club. For the past 5 months, I've been in charge of the Youth efforts. I've been coordinating with Scenery designers, painters and builders. I've liaised with the director of the Adult team's production. I've enlisted the help of our costume team, make up and tried to help run the box office. I've lead the way on the club's social media. I've done all of this with the help and support of some amazing friends and comrades. I've done all of this on top of actually planning, producing and directing a show with 15 people in it who are mostly aged 7 to 15 and a mixture of abilities and disabilities. I've felt stressed. I've seen some bad rehearsals. Yet when the curtain closed on our first performance to a big applause, I felt a huge wave of achievement. Stress was there to keep pushing me on, ensure I appreciated the task and its burdens and strive for the best I could do. To those fantastic youngsters on the stage and to those behind you, you did me and your club proud.
Life is full of stress but there are many different kinds. For example, did you know an average officer worker is more stressed on a busy commute than a stunt pilot? There are different kinds of stress and while no one can deny a stunt pilot is under pressure, he experiences the stress as a positive adrenalin rush. Where as Mr MiddleManagment's heart is exploding as the traffic again slows to a crawl on the M25.

- My Blog on my Pessimism from early June 2016
However, too much stress can also cripple you. You might just be pushing on but physical pain can appear in your back as a sign of your hidden stressful burden. In fact, in 2013 the HSE recorded 9.9 million sick days due to mental health. The biggest culprit of those days was stress.
Sometimes stress can be really short term - building up to a project or a meeting. Sometimes it can go on forever and getting worse along the way -
my experience as discussed on this

blog

is that staff were not replaced and workload steadily increasing and becoming more complicated without adequate support despite asking and getting a Doctor's support for it.
My mental health disability can be a cycle. This means that when I am OK or feeling good, I pressure myself to get as much done as I can and to a high standard. This combines with other stresses in my life, other triggers, and therefore causes my condition to worse. In essence, sometimes we can generate our own stress and particulary so with the stress and stigma of mental health. Sometime I worry what people will perceive, think and feel of me that I struggle to do anything but feel anxiety (stress) over it.
One in four of you will develop a mental health problem. That is odds of 3 to 1. According to the
Men's Health Forum
it is the same as France or Germany winning the Euro 2016 .
"There are many things we can do to beat stress: exercise, sing, dance, laugh, play or listen to music, paint, write, volunteer, learn something new and lots more. Tell us what you do. Let's talk.
Our message to men: talk about how you beat stress, talk about what causes it. Talk to your mates, talk to your family"

- Men's Health Forum
Earlier in the year I visited AWE Burghfield (link here) with Time To Change. This is one of many employers who realise that it is far cheaper, healthier and profitable to prevent serious or long term sickness caused by mental health and stress but early intervention and basic plans of support. We should champion and support these forward thinking supportive employers because far to many of us are being damaged (in terms of mental health) and left on a scrapheap.
Left as a burden to the NHS and, if we are

'sick enough'

to qualify for some benefits like PI
P.
Search #HelpGBWorkWell on Twitter
Sometimes I stress about things outside of my control. Sometimes that stress is closer to anxiety. Will I ever be normal? Will I ever go back to having a relatively successful office career with a decent wage?
The anxiety and stress of no benefits, little income and my mental health issues slowly bounce from one question

to the next

with my pessimism saying "Don't Risk It!"
In short, bad stress pins you down and exacerbates any doubts or
depression
you may have.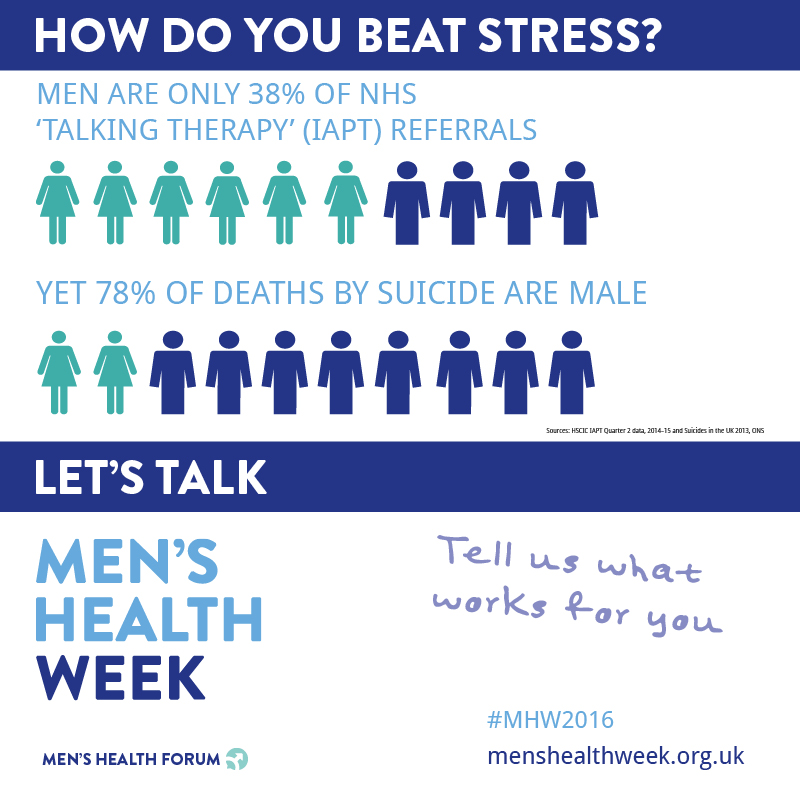 I worked in customer service and logistics. We used to say "Manage Expectations". Perhaps its time we all managed our expectations of ourselves and learnt to not only share and support our friends and colleagues who need it but also call out those building the problem stress in the first place.
The first thing you can do is take time to talk about your mental health, especially stress, and find good supportive managers, friends and family. To be that supportive friend too. By reading and sharing blogs and stories like mine, you are fighting the stigma on stress,
My anxiety says I shouldn't risk going into any work but I know most managers and employers want the best from and for you. Do not be afraid to seek professional help, speak to a manager and a GP, if you feel that you are no longer able to manage things on your own. Many people feel reluctant to seek help as they feel that it is an admission of failure. It is part of the reason why it took me so long to even get on the waiting list for NHS help - I kept trying to 'man up'.
It is important to get help as soon as possible so you can begin to get better and stay in work; not end up damaged and unable to work like me. With Suicide being the biggest killer of men, isn't now the time to issue that rally call and unite the fight?
Thank you for reading and sharing my blog. All comments and tweets are welcome xx
Click here for my HUFFINGTON POST article:

http://www.huffingtonpost.co.uk/matt-streuli/my-amygdala-brought-my-al_b_10435194.html
12 months ago, I tried to kill myself.

Suicide is the biggest killer of men.

Read my story at...

https://t.co/yunIgrt3HL

— Matt Streuli (@mattstreuli) June 13, 2016
I'm Matt. I'm 26 and I write a mental health blog and articles for the Huffington Post. I'm also the
Chairman and dame of the Iver Heath Drama Club
in South Bucks. I host The Matt Streuli Show on
Southwaves Radio
and live near West London.
Videos
:
YouTube.com/MattStreuli
Twitter
:
@mattstreuli
Tumblr
:
mattstreuli.tumblr.com/